AUTHOR'S SCULPTURE & POTTERY SCHOOL
Studio Lorek








We get to know; the world of ceramic art of ancient and modern masters, various techniques of building ceramic forms - from the simplest, created by hand, turning on a potter's wheel, slip casting.
We have a variety of ceramic masses: clay loam, weight slips, clay for turning. We get to know, building and forming of ceramic objects using these materials, in practice.
We Discover the source of creativity and creative power through the realisation of individual artistic projects in any ceramic techniques (including porcelain). Based on planned projects; we develop the way of realisation, selection of appropriate technique, decoration with glaze or engobe and how to fire it.
We provide a wide range of underglaze paint colors - engobe and glaze.
We have over twenty years of experience in making unique ceramic, sculptures, and utility ceramic(e.g. cups). The development of glazes and color palette was and will be an important part of our creative work, that we want to share with you.
We assist in the construction of your own ceramic sculptural forms: realistic, geometric and abstract.
Sculptural ceramic form requires discipline and responsibility for every decision. We want to help you in achieving your planed view of the object. We will help you in finding the anatomical principles in realistic sculpture. We will show the way of searching in abstract sculptures.
We organize open air ceramic sessions in the old Japanese ceramic art raku.
Raku technique comes from Japan, its origins in the seventeenth century. Raku means enjoyment and satisfaction. This technique has recently spread throughout the world. In spring and autumn We prepare small ceramic objects, decorate them with special glazes containing oxides, during a one-day outdoor session. After decoration we burn them and give it to the reduction. This timeless technique always meets with great enthusiasm of the participants of the outdoor sessions.

We get to know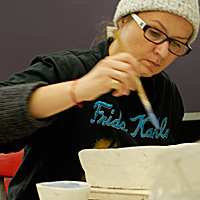 We discover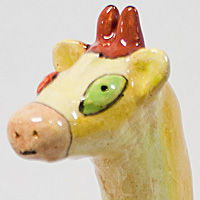 We provide
We assist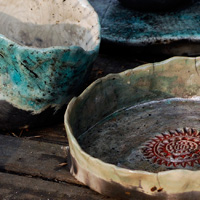 We organize
We offer
pottery workshops
in our own studio in Chyliczki located south of Warsaw between Konstancin Jeziorna and Piaseczno. It is a place far away from the urban noise, where throughout contact with clay and work in different pottery techniques you can find peace and inner balance and also enjoy exploring your own creative expression. Classes are conducted in small groups in a friendly, creative atmosphere under the guidance of professionals. We would like to invite begginners and advanced people. Courses are also available for French and English-speaking people.
Classes are held on Tuesdays 10:30 - 13:30 and 17:30-20:30 / Wednesdays 10:30 - 13:30 / Fridays 10:30 - 13:30
Possibility of conducting classes with organized groups of children, young people and businesses.
Price of one meeting (3 hours of instruction) 105 zł (including the price of materials and firing costs) in 2012.